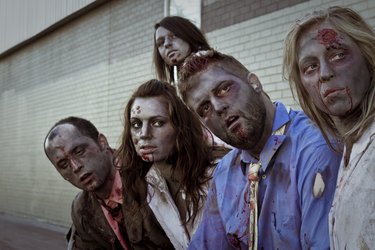 Accidentally starting a zombie apocalypse is a relatable phenomenon, at least in horror movies, comics, prestige television, and massively popular fitness apps. We put up with similar in our day-to-day lives too. No, this isn't yet another story about smartphone zombies, but it could be a big help to that ever-present supercomputer in your hand.
It's behind a metered paywall, but if you haven't used up your four free articles at Wired, check out the magazine's guide to clearing out the deadwood in your digital life. As writer David Nield reminds us, "having too many dormant logins can cause problems from a security perspective." If you're concerned about data breaches, identity theft, or just privacy in general, get ready to open up a lot more space on your phone.
First, Nield recommends manually unsubscribing from every service you can remember or think of. While there are companies that offer to unsubscribe you from everything you want in one fell swoop, doing it yourself the slow way is a lot more reliable. Search for phrases in your inbox like "confirm your email," "new account," or "verify your email address," quotation marks included.
Once you've found your way into those accounts, follow the site's instructions for closing down your profile for good. If you've signed into other services using sites like Facebook, Google, Twitter, LinkedIn, or others, check under settings for phrases like "third-party apps." Disconnecting those can also lead you to close those individual accounts. Finally, Nield recommends combing through Just Delete Me, a searchable database of instructions (and direct links) for closing down what you no longer need. Read the whole article for a more thorough look, but these are good places to start.