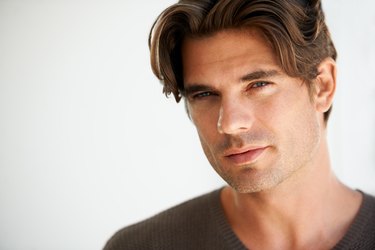 How we present ourselves conveys a ton of unspoken information. Thanks to decades, if not centuries, of cultural influences, we all associate certain features with certain unrelated qualities: A square jaw means patriotism, or a straighter nose means trustworthiness. If you want to change what your face conveys, plastic surgery makes your options nearly infinite — and subtle.
Now we may be on our way to mapping impressions to procedures. Two plastic surgeons from Georgetown University have just released a small study laying the foundations. Participants examined photos of male plastic surgery patients, before and after, who had small alterations such as eyelid lifts, chin implants, or rhinoplasty. These patients were rated on perceived qualities relating to personality, attractiveness, and masculinity.
Different procedures did in fact produce different impressions. A brow lift made the patient seem more extroverted and risk-taking, while a facelift increased likability and trustworthiness. The researchers found similar results in a 2015 study of women who went under the knife and exaggerated so-called feminine features.