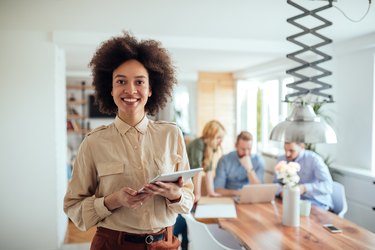 The universe operates on basically two kinds of energy: kinetic, which is the moving-around, running-at-full-tilt, ball-rolling-down-an-incline kind; and potential, which is what it sounds like — the possible energy within a ball at rest. If we torture this metaphor a little more, new research shows how this applies to career advancement, especially in regard to gender.
Psychologists at England's University of Kent have just released a study comparing how management evaluates candidates for promotion within a company. As researcher Georgina Randsley de Moura put it in a press release, "There is much evidence that women are underrepresented in leadership roles and this has social, cultural and organizational impact." We already know about the glass ceiling and the wage gap (not to mention the dad bonus), but the Kent study reveals another inequality: Employers tend to promote women on their record of achievement, while they tend to promote men based on their potential.
In short: "The findings suggest that whilst women's past performance has to be at least as good as men's, women might be held to higher standards in selection processes because their leadership potential might be less likely to be recognized than men's."