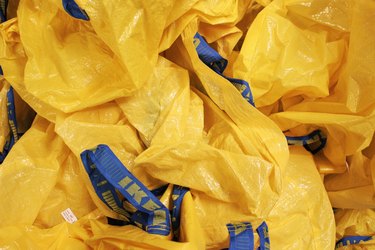 No matter how far you live from a store, you always seem to have some IKEA furniture. Whether it came to you new or it's some kind of pass-along or hand-me-down, you know just what to expect. If it's sturdy enough for your lifestyle, it can make your life better at a relatively low cost.
IKEA furniture also frequently finds itself in the discard pile — it's affordable enough that we don't worry too much about letting it go when we're done with it. Part of that may stem from our understanding that IKEA products are meant to be low-impact. The Swedish company prides itself on sustainability, whether it's through using recycled materials, flat-packing its pre-fab parts, or responsible forestry practices.
You might be wondering if that's really making much of a difference. Hosts of millennials care about ethical supply chains and sustainable business models. Some good news, then: IKEA is actually doing pretty well. The company just released its 2018 Sustainability Report, and it's showing some impressive numbers. For instance, production facilities are relying more and more on solar energy, stores are offering more plant-based food options, and according to IKEA, in the last year, "60 percent of the IKEA range was based on renewable materials and 10 percent contained recycled materials. The ambition is 100 percent renewable and recycled materials by 2030."
This is all self-reported material, of course, so it's worth seeking out more details. But with more and more of us worried about climate change, it's a relief to hear some positive news from the world's largest furniture retailer.