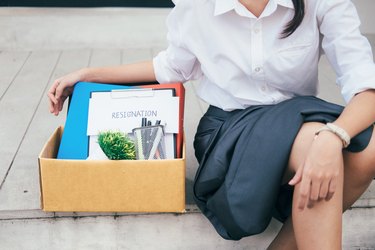 You may have seen it going around, even if you're not Extremely Online: a tweet from Business Insider embedded with a video just under two minutes long. It's called "Simon Sinek on the mistake millennials often make in a new job," and it's got more than 1.6 million views. The mistake, according to Sinek, is impatience — if a job isn't a dream job, he claims, millennials are looking for the exit within a few months.
Sinek, who is an author and motivational speaker, goes on to advise viewers to learn from the experience of the bad job and cultivate patience, curiosity, and relationships. A career, he is saying, is not the same thing as one job, and both take work. "It's not some miracle thing," says Sinek in the video. The thing is, huge swaths of the millennial population agree with him already. The problem, according to the online backlash, isn't the job-hopper per se.
On the surface, the numbers do look a little dire for employers: Millennials quit their jobs at three times the rate of older workers. Overwhelmingly, however, they quit jobs that are insufficient for any number of reasons. Whether it's thanks to bad management, unsustainable pay, lack of opportunity for growth, poor office culture, ongoing harassment, or just a change in interests, job-hopping is often the only available option for early- and mid-career workers to improve their circumstances.
Sinek is correct about learning from different work scenarios; you can turn just about any resume into a coherent narrative about what you can offer. Millennials just aren't willing to commit to employers who won't commit to helping and enriching them too.