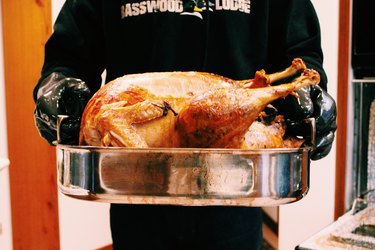 Traveling for the Thanksgiving holiday is one of the great American rituals, and it's basically always a pain in the neck. Whether you're driving across town or flying across time zones, the logistics of it all will probably feel downright military in scope. You may even be wrestling with a hearty side of guilt — after all, at a certain point, travel outweighs your ability to bring food to the table.
Or does it? The Transportation Security Administration has issued its 2018 Thanksgiving travel tips, and the first question is all about flying with food. Not just any food: full-on Turkey Day accoutrements. Twitter users have hit up @AskTSA with queries about everything from cranberry sauce to silverware. TSA's response?
"Please be aware that creamy and spreadable foods, like gravy, mashed potatoes, cranberry sauce, jam, and beverages must follow the 3-1-1 liquids rule. These are limited to travel-sized containers that are 3.4 ounces (100 milliliters) or less per item, which must be placed in a 1 quart-sized, zip-top bag. If you are taking larger amounts, you're more than welcome to pack these items in a checked bag. You don't want to show up to dinner empty-handed.
"Solid foods, like dry stuffing, fresh cranberries, turkey, bread, baked potatoes, baked goods, pies, fruits, and vegetables are allowed through the security checkpoint in your carry-on bag. You can also pack them in your checked bag."
Given that the TSA has cracked down on food items in the security line this year, traveling with Thanksgiving leftovers might make things interesting. If you're careful enough about spills, however, it could all be worth a try.