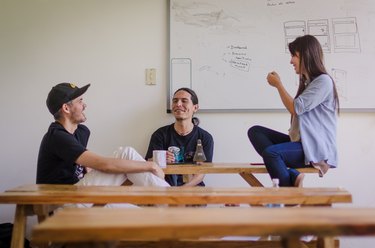 Nothing ruins your productivity for the day faster than a meeting. Even the most necessary check-ins can turn into mind-numbing slogs. It doesn't have to be this way — and we've got the data to prove it.
Researchers in Nebraska and South Carolina have just released a study that combs through nearly 200 other scientific studies on workplace meetings. They were looking for the most helpful ways of structuring meetings before, during, and after they take place. Anyone who has ever been frustrated by a never-ending status report will probably cheer their ultimate conclusions.
"Leaders can be more organized, start on time, and encourage a safe sharing environment," said co-author Joseph Allen in a press release. "Attendees can come prepared, be on time, and participate."
It's no small thing to make meetings better for everyone involved. One study found that regular employees spend about six hours each week in meetings, while managers can be stuck with an average of 23 hours weekly. None of the researchers' advice is radical or difficult; it simply involves respecting everyone's time.
Before the meeting: Assess current needs, circulate an agenda, and invite the right people.
During the meeting: Encourage contribution, make space for humor, redirect complaining, and keep discussions focused.
After the meeting: Share minutes, seek feedback, and look ahead.
Read more for a more detailed explanation of each improvement idea. And if you want to run a diagnostic of your own meetings, the research team suggests taping one, whether with video or audio only. It might be uncomfortable, but it's not worse than one more preventably terrible meeting.