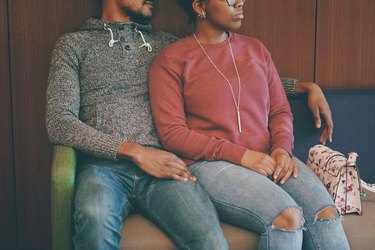 It usually takes some getting used to, knowing the salary you're earning at work and seeing how much you bring home twice a week. That discrepancy is pulling a lot of weight for you, in the form of benefits and deductions. Unfortunately, it's starting to ask a lot more from you too.
The nonprofit Kaiser Family Foundation just released research showing that health insurance premiums are growing eight times faster than wages in the United States. This spins out into all kinds of staggering statistics about the wealth gap and inequality: Premiums for employer-sponsored family health plans cost workers nearly $20,000, an increase of 5 percent in just the last year; for individuals, it's gone up 3 percent to almost $7,000. Even scarier, insurance premiums have shot up 55 percent over the past decade, far outstripping increases in wages and inflation. That's not even counting high-deductible plans and overcharging.
The proliferation of benefits is actually one reason why wages seem not to budge for a lot of professions. CEOs also tend to follow something called the leverage rule when determining employee salaries: Workers take home just one-third of the value they bring to a company, in order for the company to be profitable. Between this and the looming threat of medical debt and bankruptcy, workers seem caught between a rock and a hard place when it comes to health care.
Some of America's most aggressive entrepreneurs are looking into ways to disrupt the health insurance industry. Until then, make sure you get all the information you can about your workplace health benefits — the only thing more costly than paying up is skipping out.