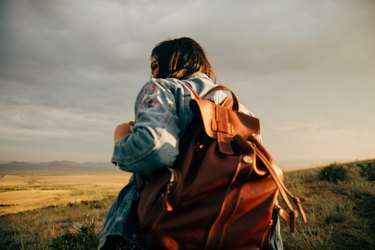 Some things are meant to last forever, like best friends or our national supply of bacon. Others we want out of lives as quickly as possible. Too often, debt has felt like too much of the former. We've now got data showing just how brutal debt's staying power can be.
The insurance company Northwestern Mutual has just released its 2018 Planning and Progress Study. It surveyed more than 2,000 individuals, 601 of them millennials, about their plans and attitudes toward long-term financial security. When it comes to debt, the news isn't good: About 20 percent of Americans dedicate more than half their income toward debt repayment, and 13 percent believe they will be in debt for the rest of their lives.
CNBC dug deeper into the numbers and found something even more alarming: Though Americans are overall optimistic that they'll pay off their debt eventually, almost three-quarters of consumers had unpaid debt when they died. Between credit card balances, mortgages, and auto loans, average debt among the deceased was nearly $62,000 for homeowners and nearly $13,000 for those without home loans.
Don't let those numbers paralyze you, though. The systems that enable that kind of debt are deeply broken, and on an individual level, everyone responds to debt differently. Look for ways to keep your momentum going, whatever your debt management plan. The right way to fight your debt is the way that gets it to go away. With the right strategy for you, that optimism about paying down your loans within years, not decades, will absolutely pay off.