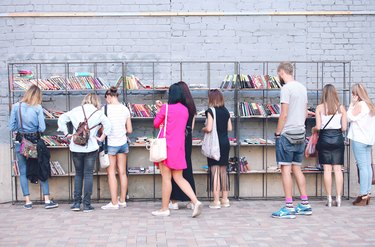 For some of us, there's no time to make an impulse purchase like when we're kind of broke. Every sensible piece of advice says you've got to save and budget to within an inch of your life, but sometime… sometimes, you just really need to blow a little cash. If this describes you, it can be easy to get down on yourself later. But it doesn't have to be that way.
Over at Lifehacker, Alicia Adamczyk has some great advice for how to use your discretionary funds. "We equate our worth and morality, to a certain extent, with our ability to have a top-notch credit score and zero debt, maxing out our retirement contributions each year, and having a well-stocked emergency fund," she writes. That's a straight shot to Guilt City, and beating yourself up over totally human impulses like seeking pleasure or relief won't get you where you want to be either.
We know that treating yourself is actually good motivation. And as long as you're keeping your impulse buys within reason, you probably don't need to get too worked up about them. There are methods you can use to help yourself stay focused, though. For one, track your emotions and reasoning along with your spending. Sometimes we misdirect retail therapy by splurging on "responsible" purchases that just weigh us down more. One way to avoid that is to check in with yourself before you check out by describing to yourself why you'd like to buy an item and how you're planning to use it.
These methods can help you get both what you want and what you need from your shopping impulses. Head over to Adamczyck's piece for more ideas on taking the reins with retail therapy.