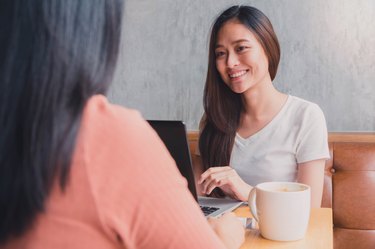 From the cost of living to the arc of your career, you have so many reasons for wanting a bump in pay. Asking for a raise, however, can seem totally intimidating, even if you've done all your homework. If you're looking for a one-stop shop to help you make your argument, salary profiler PayScale has you covered.
Pardon the pun, but PayScale's Raise Anatomy is a thoroughly researched, easy-to-use stockpile of information about who tends to get raises, what excuses companies use to deny them, and where salary negotiation is rarer than it should be. The data comes from more than 160,000 participants across the United States and from all kinds of work backgrounds. It's also broken down by gender and by race, with some instructive insights.
Along with guides and scripts for these conversations, you can also rest secure in knowing that you're far from alone in wanting more for yourself. One bit of good news? In the last two years, almost half of millennials have asked for a raise — and eighty percent of them got one. There's a lot of good research out there to help you craft your ask. There are optimal times to put a raise on the table, as well as phrases that can help or harm your chances. Even if you're not necessarily looking to job-hop, it's possible to leverage someone else's offer into a better salary at your current gig.
There's also research suggesting that getting good at asking for raises early in your career will pay off in a big way over time. Even incremental raises, rather than one big lump, can keep you happier at work. It's never too late to talk yourself into fighting for more. Give yourself as much help as you can and get out there on your own behalf.