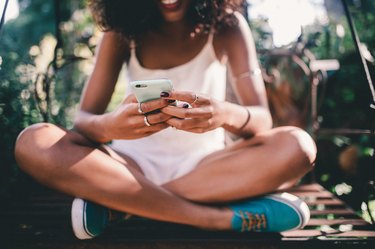 Have you heard? There's a wait list and everything. The next big thing in AI-assisted personal shopping is coming to you from the house that Sam Walton built.
This week, Walmart officially announced its invite-only paid service, Jetblack. Think Alexa or Siri, but for busy parents or on-the-go professionals. Members can simply text the exclusive app and receive a smorgasbord of personalized recommendations, both from people and from algorithms, and free perks. These can include free delivery, including same or next day for most items; free giftwrap, as well as handwritten gift cards; in-home courier returns, so you don't have to find your way to a store, and no minimum spending floor, even if you're rushing an item.
Exciting as it all sounds, right now this service is only available in Manhattan and Brooklyn, New York. The Verge reports it's already been in secret test-runs for eight months, and given that Walmart has been trying to muscle in on Amazon for online retail dominance, Jetblack shouldn't stay exclusive for too long. Right now you can sign up for the service's mailing list, whether you live in the New York metro area or beyond, to get word of when you can try it out. The service itself will cost $50 a month.
If it all sounds a little fancy for Walmart, you're not wrong that they're diversifying their image. The company recently partnered with storied department store Lord & Taylor to introduce more premium brands to customers. Jetblack itself is the work of Rent the Runway founder Jenny Fleiss, and the product of her project within Walmart's technology incubator, Store No. 8. It's been a year full of surprises already, and we're only halfway through.