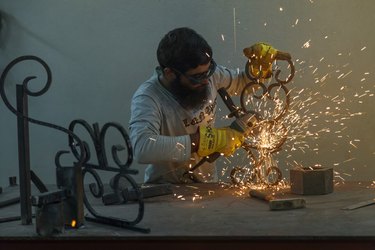 The news seems unabashedly good at first glance: On Tuesday, the U.S. Department of Labor announced that in March, there were an equal number of job openings and job hunters — 6.6 million. April saw the lowest unemployment numbers since December 2000. But the math isn't exactly what it seems.
In the decade since the Great Recession, we've all been pretty nervous about finding and keeping worthwhile employment. According to analysts, one reason you may not see the benefits of this hiring spree is a mismatch in skills. The sectors that want more workers — largely skilled trades — can't find ones that are qualified, or they can't get qualified workers to move to their region.
Another significant stat from the Labor Department's report is the quits rate, which is just what it sounds like. American workers have been quitting their jobs in droves this year, confident they can find other work. "Quits are also a source of upward pressure on wages," economist Sarah House told Reuters. "The majority of workers who voluntarily change jobs receive a pay bump, generating stronger wage growth for job switchers."
If you're in the market for a new job and you're willing to take on some new training, check out local community colleges to see if they can help you fill out your resume. Some states, such as Tennessee, Rhode Island, and now Maryland, have made community colleges free for residents. If you're still feeling in the dumps about the economy, you're not alone — after all, 5 million Americans are still underemployed.