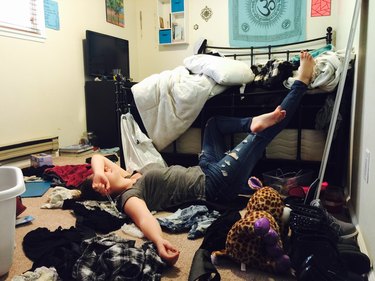 A lot of times, mess is just something that accumulates because we say we'll get to it later. By that point, of course, it can be so overwhelming you don't want to deal with it at all. The temptation might be strong to hire a cleaning service (or beg for help from a friend or family member), but you can save yourself both time and aggravation by changing your approach to chores.
Take it from Rachel Hoffman, the blogger behind the popular website Unfuck Your Habitat. Hoffman's whole premise is that cleaning should actually be a series of sprints, rather than a marathon. Burning out by trying to change all your habits at once is a surefire way to stay dissatisfied with your living space. Instead, Hoffman recommends what she calls the 20/10.
It's pretty simple: For every 20 minutes you spend cleaning, take a 10-minute break. Rather than throwing yourself into organizing entire rooms uninterrupted, focus on small achievable tasks and reward yourself when you finish them. This helps you create a routine rather than a sacrifice you resent. "You can incorporate twenty minutes a day into the rest of your life without feeling like you're spending all of your limited and precious free time cleaning your damn house," she writes in her book Unf*ck Your Habitat: You're Better Than Your Mess.
"Yes, yes, you have a million valid reasons why your mess has taken over," Hoffman says of her system fundamentals. "But I refuse to believe that you can't spare 20 minutes, once a day, toward improving where you live. If you're still making excuses, you don't really want to do it. If you realize that 20 minutes is really no big deal, I can pretty much promise that things will get drastically better pretty quickly."
If this sounds like the Pomodoro Method for time management, you're not wrong. So rather than paying someone for a couple hours' cleaning, tell yourself that you can do anything for a brief period of time, and that you'll be just as satisfied when the results add up — and keep doing so.