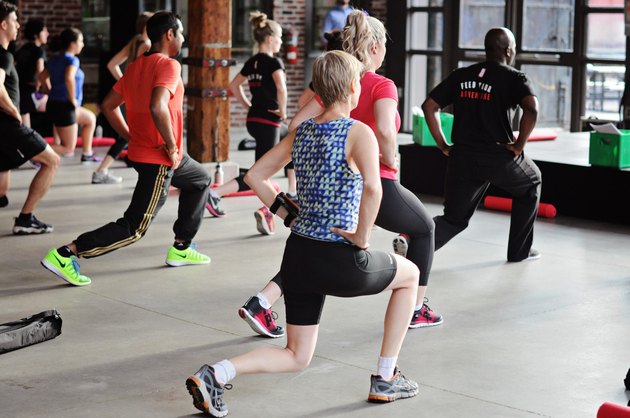 There's a lot to love about solitary workouts: controlling your schedule, time to think (or not think), no need for small talk or embarrassing teachers. But if you're more of a classes-at-the-gym type, you've got one leg up on the solo set. New research shows that group exercise fans show a significant drop in stress in comparison.
A recent study from the University of New England College of Osteopathic Medicine asked 69 medical students to choose a 12-week exercise regimen, either alone or in groups. A control group didn't exercise at all, save for transportation (e.g., walking or biking). As future physicians, these students were both constantly stressed out and highly motivated to stay or get healthy. The researchers tracked the med students' progress each month.
Those who chose to do their own workouts alone or in groups of no more than three (usually running or weight-lifting) showed an 11 percent increase in mental quality of life, but they worked out for twice as long as the group exercisers. Those who participated in a core strengthening and functional fitness program, however, saw huge benefits. Quality of life improved across the board (mental, 12.6 percent; physical, 24.8 percent; emotional, 26 percent), and participants reported a 26.2 percent reduction in perceived stress levels. In most of those categories, those who worked out alone did little to no better than the control group.
Obviously this isn't a reason to drop all your solo exercise. Whatever gets you moving and consistent is the best exercise plan. But if you're gun-shy about classes, consider the possibilities — and what group workouts could do for you.