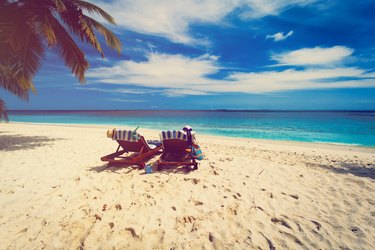 Job perks like free food and gym discounts are great, and thankfully getting more and more common. But web-development company Basecamp has taken perks to a whole new level, and we can only hope that the rest of the business world follows suit — at least to the degree that they can.
As reported by Business Insider, employees at Basecamp gets the expected perks of great employment — healthcare plans, high wages, 401(k)s, time off — but they also get above-and-beyond perks like a $5,000 annual vacation stipend, $100 a month for at-home massages, $100 for fresh produce, tenured sabbaticals every three years, 16 weeks of paid parental leave, and 4-day work weeks in the summer. How do we sign up?
The company's CEO Jason Fried told Business Insider, "I'd love to continue to give more and more things to make people happier and more comfortable, I'm just running out of ideas for it."
One way that this is possible is due to the size of the company, it's very small with slightly more than 50 employees. Fried also says the company is totally self-funded so no board of directors is needed to sign off on these perks.
While this is definitely not possible for big companies, we like this trend. Keep people happy and they likely will work harder for you and stay longer with the company. Putting a premium on quality of life is certainly a business trend we can get behind.