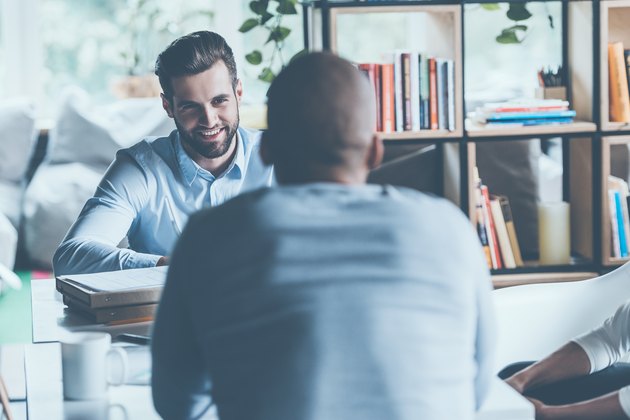 So you got the job interview, congratulations! Unfortunately, that's only the first step in the rigamarole that is getting the job. If the interview doesn't go well, you're likely out of the running. So as soon as you get said interview, making sure it goes as well as it possibly can should become your priority number one. Here are a few tips to ensuring that's exactly what happens. Many of these might seem like no-brainers, but oh you would be surprised.
1. Be Prepared.
You would be shocked by the number of people who arrive at interviews grossly underprepared. They haven't prepped answers, or anticipated questions, and don't know enough about the company to ask constructive questions. So do your homework, be ready for whatever gets thrown at you and get your thoughts together on how you want to answer the questions you're definitely going to get asked — like, "why do you want to work here?" Being prepared will both make you a more confident interviewee and give you a leg-up on the other job applicants.
2. Mind Your Body Language.
Watch how you're holding yourself. You might be hanging onto the interviewer's every word but if you look bored, they'll register you as bored. Don't fidget, try not to slouch, don't play with your hair, or play with their desk, or lean on their desk. Be proper, sit tall, shake hands — these are details but they could make or break you.
3. Make It Feel Like a Conversation.
Spoiler alert, interviews aren't just awkward for you, sometimes they're awkward for the person who is interviewing you as well. The more natural you can be, the more conversational, the better. Ask them questions, respond to what they say in a real human way. Don't be a question answering-robot. Be yourself.
4. Dress the Part.
Like body language, how you dress might seem unimportant and if you dress appropriately it is unimportant. But if you are inappropriately dressed that is all they will remember about you. So dress the part, look a little more professional than you think you need to. All this will do is help you.
5. Be Kind.
Be kind. Say thank you. Be polite. Send a thank you e-mail. Leave your gruffness at the door and be your very best and nicest self.