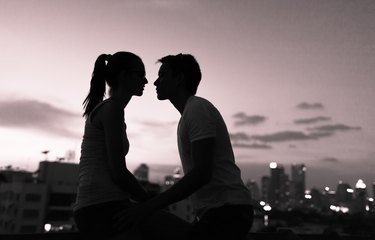 A big complaint with the online dating game is that it's hard to transfer the online back-and-forth into the offline world. AKA, you match with someone, you chat with someone, but that's as far as it goes. Well, the women-oriented dating app Bumble is seeking to circumvent that issue by creating a space offline for Bumblers to meet and love connections to be made; is it possible that the future of online dating is offline dating?
The venue is called the Hive, and it's a pop-up for the month of June in New York City. The New York venue is considered to be a pioneer location for the brand, with different Hives expected in other cities soon. Meaning that if business at the Hive is booming then there will likely be many more Hives to come.
It's hard to tell if this is a dating venue or an extension of the Bumble BFF branch — where people are matched up in a platonic way — but it doesn't really matter. What it is, is an admission that offline is just as crucial as online when it comes to love connections. It almost feels like the return to real books after e-books took off.
The brand calls the Hive "a safe space where guests can expect complimentary entertainment, drinks and snacks, and interactive sessions with thought leaders and entrepreneurs. Come connect with peers and enjoy interactive programming ranging across topics including Health and Relationships, Technology, Education, and more!"
You can find out more here, but in the meantime maybe we should be on the lookout for other Hive-like trends. Business prediction? Offline dating might actually be the future.