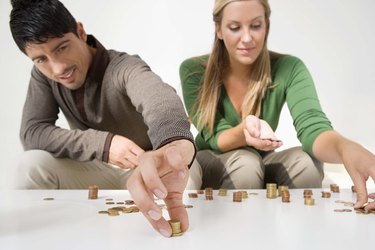 Living well is often associated with spending a lot of money, and when you're on a tight budget, living well can seem impossible. However, you don't have to break the bank to live well. Living on a budget doesn't have to be boring, just as being frugal doesn't mean you need to be frumpy. With a little planning, you can do all the things definitive of living well, from staying fashion forward to getting fit, all while adhering to your monthly budget.
Step 1
Eat well. Living well and dining well are synonymous, but when you're on a budget, you can feel limited to fast food. Instead of spending your monthly food budget on low-cost, low-quality food, shop the sales at your local grocery store or farmer's market each week. Choose from fresh, seasonal fruits and vegetables, lean-cut meats and whole grains while avoiding the cheap processed foods. Spend a little extra time in the kitchen and create inexpensive yet wholesome and healthy restaurant-quality meals. Cooking at home each week will improve your health while saving money.
Step 2
Dress well. When you're on a budget, keeping up with the latest fashion trends and sporting designer apparel may seem impossible, but your wardrobe doesn't have to suffer just because you're trying to save money. Try shopping at vintage, resale and consignment clothing stores to find lightly used yet fashionable designer pieces for a third of the cost of new clothing. Shop at local outlet malls and discount retail stores, especially at the end of the season, to find great deals on your favorite designer apparel that will help you spend less without looking like it.
Step 3
Get fit. Living well includes taking care of your body from the inside out. However, that doesn't mean you have to spend hundreds of dollars each month on a personal trainer or expensive gym membership. Get a low-cost membership at a local gym, YMCA or city recreation center. Such gyms offer fitness classes that you can take free of charge, which are often led by personal trainers. You can also subscribe to a fitness magazine and use the workout plans provided to get a great workout for much less than what a trainer would cost you each month.
Step 4
Pamper yourself. Living well means keeping up with your personal appearance. While you may not be able to spend a fortune on spa and salon services, adhering to a monthly budget certainly doesn't mean you have to neglect your personal appearance. Instead of blowing your budget on expensive salon services, find a local beauty school. Such institutions offer services ranging from hair cuts, styling and coloring to manicures, pedicures, facials, waxing and massages that are performed by trained students. These services are offered to the general public for less than half the cost of what you would pay in an expensive spa or salon and are often comparable in quality.
Step 5
Go out and about. Don't let your budget keep you from getting out and having fun on the weekends. Find inexpensive activities to do with friends or family. Avoid paying full price for movie tickets and find dollar theaters in your area or rent dollar DVDs to watch at home. Sign up for newsletters or e-mail lists from your favorite restaurants to stay informed about dinner specials, promotions and coupons. Search your local newspaper for free events such as concerts and theater performances or discounted admission to art gallery events.